What is Cultural Diplomacy to you?
By The Rt. Hon. Anna Diamantopoulou, Former Minister of Education for Greece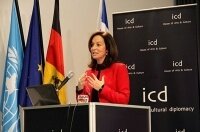 "There used to be many efforts in Cultural Diplomacy between Greece and Turkey. Many peace-oriented events in the cultural and touristic areas used to take place. The relationship between the two countries had not been easy for years, but culture was always a very good way to start the next step".